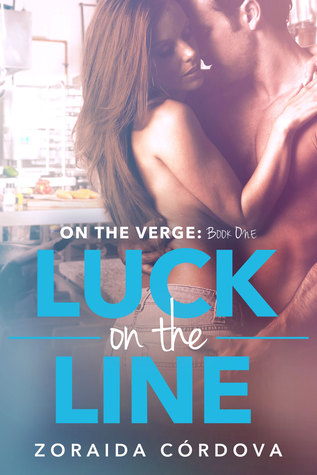 LUCK ON THE LINE
On the Verge – Book 1
Out now!
To turn her life around, she'll have to stand the heat. To fulfill his dreams, he'll have to get Lucky.

Despite her name, Lucky Pierce has always felt a little cursed. Refusing to settle for less or settle down, she changes jobs as often as she changes boyfriends. When her celebrity chef mother challenges her to finish something, Lucky agrees to help her launch Boston's next hot restaurant, The Star. Even if it means working with the infuriating, egotistical, and undeniably sexy head chef.

James loves being known as Boston's hottest bad boy in the kitchen, but if he wants to build a reputation as a serious chef, he has to make this restaurant work and keep his scandalous past out of the headlines. Getting involved with his boss's spoiled, sharp-tongued daughter is definitely not on the menu.

As the launch of The Star looms and the tension and chemistry heat up in the kitchen, they're going to need more than a little luck to keep everything from boiling over.

Goodreads | Amazon | iBooks | Kobo | Google Play | B&N | Audible | 

LOVE ON THE LEDGE
On the Verge – Book 2
Out now!
Sky Lopez thought she had it all—the perfect job, the perfect relationship, the perfect life…until she discovers her not-so-perfect boyfriend has been cheating on her. So when her uncle asks her to help plan his Hamptons wedding, Sky jumps at the chance, leaving all of her "perfect" future plans in the rearview mirror.

The wedding doesn't prove as good a distraction as she'd hoped, because when her relatives and friends find out she's single, they put Sky in their match-making sights. Never mind that she's only twenty four. Never mind that she doesn't want to settle for anyone other than Mr. Right. Seemingly everyone in Sky's life wants her to get married and have babies. Like, yesterday.

So when Hayden—a sweet, sexy roofer—plummets through the ceiling and practically falls into her lap, she can't help but think that maybe nice guys do just fall from the sky.

Soon Sky finds herself juggling crumbling wedding plans, the cheating ex who's trying to win her back, the cute plastic surgeon her family thinks is perfect for her, and the hot roofer she can't seem to get off her mind.

As the wedding date draws closer, Sky will need to choose one—or none—to keep herself from falling off the ledge, and maybe into love.

Add it to Goodreads and order on Amazon | iBooks | Kobo | B&N | Audible | 
LIFE ON THE LEVEL
On the Verge – Book 3
Out now! 
Never gamble more than you can afford to lose.

River Thomas was born a wild card. Her father took one look at her and decided that his daughter would have the best poker face in the city.

But when he dies unexpectedly, River's already dangerous life is spiraling out of control. After six months without gambling—staying away from the tables where she makes and loses her fortune—she relapses, and soon must go on the run from a guy looking to settle a score.

She wants to be better, needs to be better, before she ends up like her dad. The road leads her to rehab in Sun Valley, Montana. But first, one last hurrah, and the beautiful stranger at the bar is just what the doctor ordered. She leaves before sunrise still thinking of his face. But her last hurrah with the guy of her dreams is also her counselor for the next ninety days…

Attraction, however, is too strong a lure to ignore, and soon River finds herself gambling with the one thing she never thought she would—her heart.

Add it to Goodreads and order on Amazon | iBooks | Kobo | B&N | Audible